Hello Ascension Friends and Families!  We would like to inform you that our PreK 1 with Mrs. Avila is full. The Class of 2032 is well on it's way. The wait-list for PreK 2 is now open. Please contact the office (323) 756-4085 for more information. 
Hola familias y amigos de Ascension! Nos gustaría informarle que nuestro PreK 1 con la Sra. Ávila está lleno. La clase de 2032 está en camino. La lista de espera para PreK 2 ya está abierta. Por favor llame a la oficina (3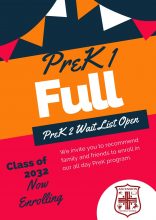 23) 756-4085 parpara más información.